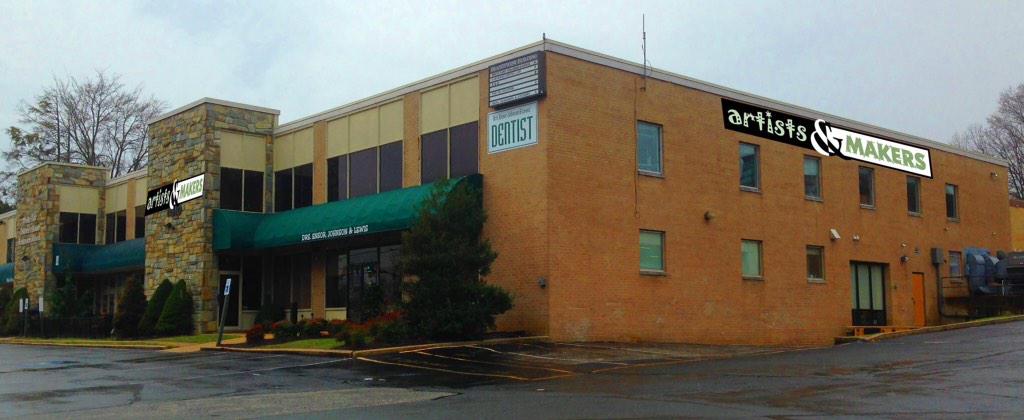 AN ART CENTER LIKE NO OTHER:
For-profit
Professional development
Not a co-op
24 hour access
Take your artistic practice to the next level. Studios available now in Montgomery County's largest studio complex. With two locations, and 36,000 sq. ft. we offer amenities you won't find elsewhere. Five main galleries, classrooms, meeting spaces, lounges, and a wide variety of floorplans, we have just the space for you.
We will help you grow your career and your following with tremendous monthly openings and open studio events that gather hundreds of guests and collectors, as well as professional development that includes salon discussion groups, continuing education workshops, and expert speakers from across the metro area and beyond. We can help you reach your next career goal with support, knowledge, and guidance you won't find elsewhere.
Tour and join our vibrant resident artist program today!
We are delighted that along with our expansion into a second facility managing the artist program for the owners of the buildings, we now have more studio options available for almost every sort of artist, maker, or arts professional. At our flagship location on Parklawn we currently have several shared studios coming available – with great studio mates. Our second location on Wilkins is slightly more industrial in feel, and a wider range of artistic practices are possible. Artists, makers, and entrepreneurs will find a wide  variety of options and amenities. Both locations offer light industrial HVAC that provide exceptional clean air flow. Whether you are an artist, maker, fine art professional, or an arts-related business, we may have just the gallery/work space you are looking for!
Do you like to be in the middle of the action and crave social interaction and inspiration? We have a studio for you. Do you thrive in a peaceful environment, and want to come to the studio in the morning to stay focused all day on your work? Spacious light-filled loft studios with large windows in the annex might be just the thing you're looking for.
Do you have an arts related business that needs room to spread out and grow? We have a number of generously sized studio spaces that might be a good fit for your growing enterprise. If you have a business that is not arts related, but love the arts and want to center your homebase in a vibrant center with free parking in the heart of Rockville, there are additional offices and suites in the building that are available now.
Make plans to come and tour, and find the space that is just right for you. Any studio/gallery/office can be shared with an artist friend or friends, and you will enjoy the hundreds of visitors who attend our openings each month. Every artist is juried in from an interview, work samples, and resume/bio to insure a good variety of work practices and artistic styles.
At both facilities you enjoy:
24 hour keyed access

Light industrial HVAC systems

Central heat and air

No mandatory work hours for artists

Lounges and other areas for meeting clients, relaxing, and socializing

Libraries with resource books and magazines

Package/Mail acceptance (Tues-Sat 10-4) other hours by chance or appointment

Rentable classroom spaces of varying sizes

Kitchenettes with refrigerators, microwaves, coffee/tea pots

Acceptance into at least one group exhibit per year (March)
Artists with a mature portfolio may apply for solo exhibits

Monthly First Friday openings that typically draw 200-500 people – bumped to second Friday for major holidays – along with open studio weekends and other community events

Access to professional career guidance and counseling, along with salon – an artful conversation to help build business expertise

Immersion into a thriving and positive arts community that is supportive and nurturing

Professional staff who work hard to help you succeed with exposure and opportunities