We are excited to bring Artists &Makers Studios to Oro Valley, Arizona, and are celebrating our second year of operations!
The studios have been built out to our specifications in this new building and feature a generous covered patio walkway, large windows, and exterior security cameras for an added level of safety. 24 hour access.

This gorgeous jewel box location in Oro Valley, AZ – in Steam Pump Village – is located approximately nine miles north of Tucson. With twelve studios, a gallery, and on-site management, a wealth of opportunities to grow artistic careers and community-building are the cornerstones of the project.
There are opportunities for studio swaps with our Maryland location, with the potential for other exciting adventures, and our studio artist populations are able to interact with one another.
After working on this project for more than a year behind the scenes, we are thrilled to see the project bear fruit in our second full year of operation. With thanks to our wonderful development team – who have gone the extra mile to make this location work beautifully for us.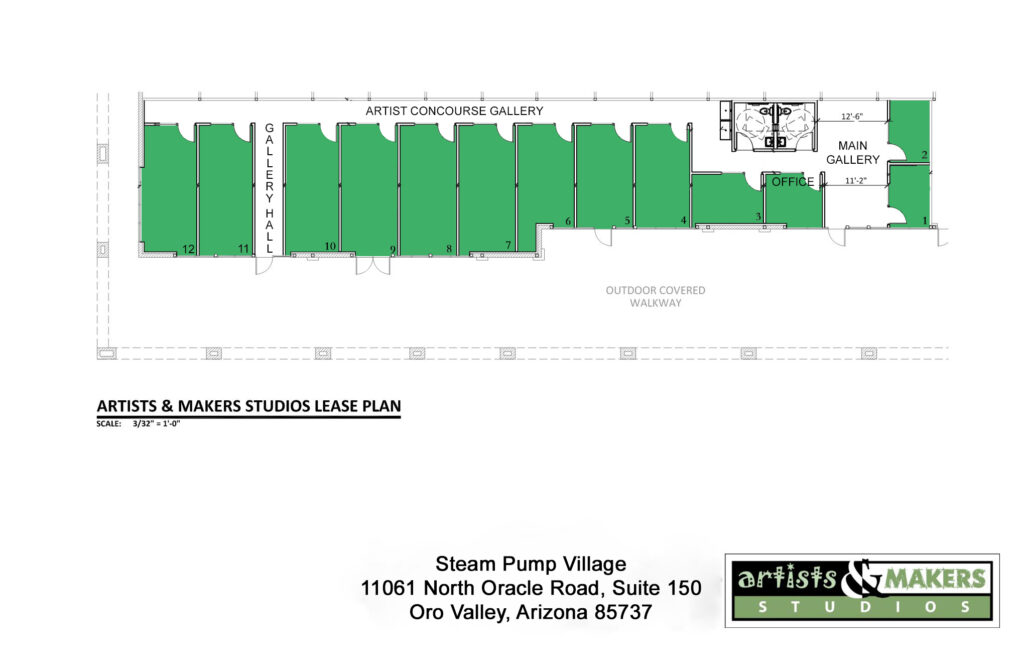 Come tour the A&M location in Oro Valley with office hours Thursday 10-4, Friday 12-6, Saturday 10-4. Solo studios, group studios, and individual gallery spaces for rent.
OroValley@ArtistsAndMakersStudios.com
See Events here! 


Letter of Intent – Oro Valley
Application – Oro Valley
Emergency Contact Form – Oro Valley
New Artist Letter – Oro Valley