With multiple classrooms and workshop spaces in two locations in Rockville, we are pleased to expand our class offerings taught by some of the best artist instructors in our area. These classes and workshops will inspire emerging and professional artists with great content, a supportive classroom environment, and the opportunity to build on skills and talents while working among talented resident artists in a collegial atmosphere. Check back often as our offerings expand. Contact individual instructors with questions, and to register.
The Compass Atelier now has three classrooms – a 1,000 sq ft classroom located at Artists & Makers Studios 1 on Parklawn in Rockville, The Compass Atelier Annex in studio 8 at A&M1, and a new 1,100 sq ft classroom at Artists & Makers Studios 2 on Wilkins Avenue in Rockville that offer classes and more for all skill levels and many disciplines, styles, and subject matter.  Weekly Classes offer a great entry point to art-making.  The Certificate Program takes those interested in a professional artistic career to that goal...
read more
Resumes in February 2018 Open Life Drawing Drop-In   2nd and 4th Mondays of the month from 6-9pm. Artists of all levels are welcome. (No instruction.) Come draw from a professional model. Drop-in fee $10. Participants must be 18 years of age or older.   Artists & Makers Studios 2 12276 Wilkins Avenue Rockville, MD 20852 Park in rear, enter at the back door. Main Gallery, straight in and to the right from the parking lot. Figure drawing – nude model (short and long poses) Contact: pooja@poojafineart.com...
read more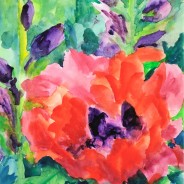 Workshops with Cathy – Try something new and also make faster progress.  For beginning and intermediate artists or experienced artists new to the topic area. QuickStart to Painting with Media Exploration – full-day class on fundamentals, sketching, and tools/techniques. Exercises with media reinforce concepts and help students decide what to explore further. $150 supplies and "takeaway" tools included. JumpStart Watercolor Workshop – 6 hours of technique demonstration and student practice.  $125 all supplies included....
read more
The Joy of Color Watercolor Workshop at Artists & Makers Studios 2        Wilkins Avenue, Rockville Friday April 27    10:00am-3:00pm                    $100.00 Saturday, May 19, 2018     10:00am-3:00pm      $100.00 Immerse yourself in a day of color mixing, brush technique, and gesture painting from shapes of nature. Explore color mixing on the paper, spatter mixing, letting pigment float, dropping and pouring colors, wet into wet, and glazing. Use the wide range of values and intensity that watercolor offers. Bring something from...
read more
Jean Hirons is a painterly realist using soft pastel to create luminous landscapes. A native of New England, Hirons often features its beautiful architecture in her paintings, or the farms of the Mid-Atlantic, where she now resides.  Hirons is a signature member of the Pastel Society of America and a member of the Master Circle of the International Association of Pastel Societies. She also holds signature membership in the Pastel Painters Society of Cape Cod and the Maryland Pastel Society. Her work has been included in many national and...
read more
David earned a Masters of Arts Degree from Central Michigan University. After 15 years of teaching in the Michigan public school system he moved to Washington, DC to pursue an art career. In the past several years, David's talent has earned him the distinction of Best of Show in such prestigious organizations as the Capitol Hill Art League of Washington, DC, the Cultural Society of Coral Springs, Florida and the Washington Watercolor Association of Washington, DC. In addition to being a working artist, David is a dynamic and engaging...
read more
Are your deepest impulses and dreams longing for an expressive outlet? Please join artist Melissa Ichiuji in this four-week doll-making workshop where you will learn how to playfully manifest the you of your dreams through the art of self-portrait figurative sculpture. Participants will use journaling, movement and guided imagery to unlock the body and mind and learn basic techniques for joining soft materials and meaningful artifacts to create a uniquely charged avatar doll aligned with your innermost fantasies. This is a beautiful way to...
read more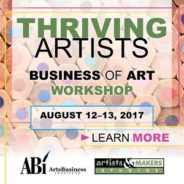 Please join us for the Thriving Artists Workshop WASHINGTON DC METRO AREA Artists & Makers Studios 12276 Wilkins Avenue, Rockville, Maryland August 12-13, 2017 Want to launch and grow your own business as an artist? Interested in moving from part-time to full-time, struggling to sustainable? This two-day workshop program is designed to guide you into a successful business model. Learn best practices firsthand with some of the top experts in the industry. Schedule at a Glance – Saturday, August 12 9:00 a.m Registration 9:30 a.m....
read more
We are delighted to announce that the very talented and award winning U.K. artist Graham Berry is visiting Artists & Makers Studios 2 for a weekend workshop, May 19-21, 2017. WORKSHOP IS FULL & ON WAITLIST If you have questions, contact Colleen Henderson for more information. ...
read more
Elody is currently offering 3 exciting workshops in Studio 203 at Artists and Makers 2.  Join her at the Smartphone Imagery Workshop  to learn how to take great photos with your Smartphone (along with an overview of basic and advanced functions of your phone, a demo of various apps, how to edit your photos, the various peripherals available, social media, printing, etc.) Intro to Digital Basics Workshops. In this workshop you will learn the basic fundamentals of digital photography to give you a better control of the picture-taking process ...
read more
NO ART EXPERIENCE NECESSARY All supplies provided 3 hour workshops at Artists & Makers 2 Consider taking it with friends or family for added fun In this class, we use home-made gelatin plates (provided, although brand-name Gelli plates are also welcome) and we use acrylic paints to roll onto the plates.  We texturize the plate surface with stamps/stencils/found objects (many are provided) and, through an iterative printing process, we create fun printed layers which result in the final art prints, called "monoprints". This means that...
read more
Belly Dance and World Culture Fitness Classes Shadiyah presents DANCE CLASSES at Rockville's newest and fastest growing art complex, Artists & Makers Studios! NOW is a great time to indulge in the beauty and health benefits of Middle Eastern dance! Join me for a journey of Middle Eastern and World dance styles, music and movement celebrating the diversity of dance and fitness from around the globe and inspired by rotating art exhibits in the gallery at Artists & Makers Studios. Each class includes a yoga warm up & cool...
read more
Encaustic Painting Workshop Workshop can be taken for one or two days Encaustic Painting Workshop Workshop can be taken for one or two days What is covered: This workshop is for some who have little familiarity and some who have experienced working with the medium, but seek to refine their skills. Demonstrations will be followed by independent working time. Diversity of learning is covered, including the basic materials and techniques, safety issues and discussions of supports, grounds, layering, scraping, fusing, transparencies, collage,...
read more
Figurative Sculpture Class with Melissa Ichiuji March 5 – March 26, 2016 Saturdays from 10:00 – 1:00 $175.00 for 4 weeks (materials not included) Express your secret self through doll making   Dolls are the oldest, most popular toys that ever existed. Since the beginning of civilization dolls have functioned as playthings, magical dream keepers and spiritual intermediaries. Doll making marries beautifully the seriousness of high art, the freedom of play, and the healing power of self-reflective object making. This class invites...
read more
My glass journey began about twenty years ago when I signed up to take a fused glass class and I fell in love with the glass medium and the interplay of the glass itself with the lighting around it. Hooked on glasswork and this new art form, I went on to become a founding member of the Glen Echo Glass Art Consortium. To further hone my craft, I have taken classes with many renowned glass artists, including Rudi Gritsch, Gil Reynolds, Steve Klein, Jane Bruce, Anna Boothe, Colin Reed, Martin Kramer, Richard Parrish, Stacey Lyn Smith, Jonathan...
read more