Opening Reception Edible Delights
Provided by Chesapeake Framing Company
Since we opened our doors in March of 2015, Artists & Makers Studios' gallery openings have become just as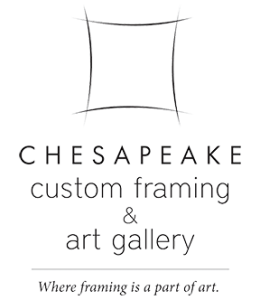 well-known for incredible food spreads as they are for vibrant and exciting works of art, and the spirit of creativity that drives our continued success.
We're so delighted that Mary Jo Moon of Chesapeake Framing is partnering with us to ensure our patrons and visitors quench the thirst and fill the appetite for food and wine while enjoying some of the finest art collections the mid-Atlantic region has to offer.
As you delve into the arts and cheesecake at our gallery openings, we hope you'll think about those works of art at home, just waiting to present themselves with the right frames.
Chesapeake Framing Company provides talented, trained designers, the highest quality mouldings, and an in-house production studio staffed by skilled artisans.
Chesapeake Framing's team of talented master framers provide unmatched, expert finishing and designs for your artwork.
Having served the Washington, DC metro area for over 35 years from Kensington, MD, Chesapeake Framing recently opened its second location in Gaithersburg.