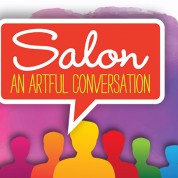 Upcoming FREE Salon – an artful conversation Events
Suzan Jenkins
The Arts and Humanties Council of Montgomery County
Learn more about the Arts and Humanities Council and what they do for Montgomery County, and discover all they have to offer in the way of grants and professional development and technical assistance programs

January 20th
1-3pm
Free and open to the public
Artists & Makers Studios 2
12276 Wilkins Ave. Rockville, MD. 20852
(240)437-9573
Please join us for Salon – an Artful Conversation on January 20th, when Suzan Jenkins, CEO of CreativeMoCo.
Suzan E. Jenkins has been a visionary leader in the non-profit arts and culture sector for over twenty years, serving in executive positions at the Rhythm and Blues Foundation, the Smithsonian Institution and the Recording Industry Association of America.
Jenkins serves on the Board of the Committee for Montgomery; as a member of the Silver Spring, MD Arts and Entertainment Advisory Committee; as Co-Chair of the Women of Color in the Arts Mentoring Committee; on the Community Advisory Council of WETA; on the American University Arts Management Advisory Council; and is a former Board member of Culture Capital and DataArts, previously known as the Cultural Data Project.
Suzan Jenkins' work has supported freedom of expression and creativity though her efforts not only in the US, but internationally. She has served as a marketing consultant to the Fes Festival of World Sacred Music in the Imperial City of Fes, Morocco and worked with artists interested in exploring cultural exchange, such as bringing Mardi Gras Indians in New Orleans, Louisiana, to Essaouira, Morocco to participate in the Gnaoua Festival, and in bringing rhythm and blues musicians to Madrid, Spain in the 1990s and jazz students to the Hague and Panama.
As an educator, Jenkins has served as Executive in Residence in the College of Music at Loyola University and as Adjunct Professor at both American and George Mason Universities.
Suzan Jenkins holds an Honorary Degree in Public Service from Montgomery College, MD; a BS in Psychology and Management, and an MBA from the University of Maryland; she is currently a fellow in the National Arts Strategies: Chief Executive Program.
There will be time for Q & A for attendees and we encourage you to bring your business cards for networking and a snack to share.
Email Kristin at manager@artistsandmakersstudios.com